Neuro Content Optimisation
Welcome to my site. My work involves advising on improving content (ads, websites, product designs) using insights from neuroscience, psychology and behavioural economics.
Here you can read a selection of my articles on these subjects. You can also read about my books, including a couple of excerpts.
MY LATEST BOOK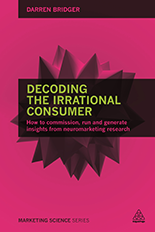 An introduction to Neuromarketing, the ideas behind it and the different technologies it uses.
LEARN MORE
THE LATEST POSTS FROM DARREN'S BLOG
I was recently looking around Europe's largest bookshop: Waterstones in Piccadilly, London. It's a spacious, six-story old art-deco building, housing nearly a quarter-of a million books. Looking around a large real-life bookshop is an increasingly rare pleasure; so... read more